A herniated disc, so bad that an OP had to follow. Stand now, more than seven weeks later, she tells us how she's doing. "My ambition is to re- enter in the competition scene the end of January," says Tina. How fit is she? What can she perform this winter and what are her plans in the future?
Biathlon-Online talked in her home Schmiedeberg with Tina Bachmann.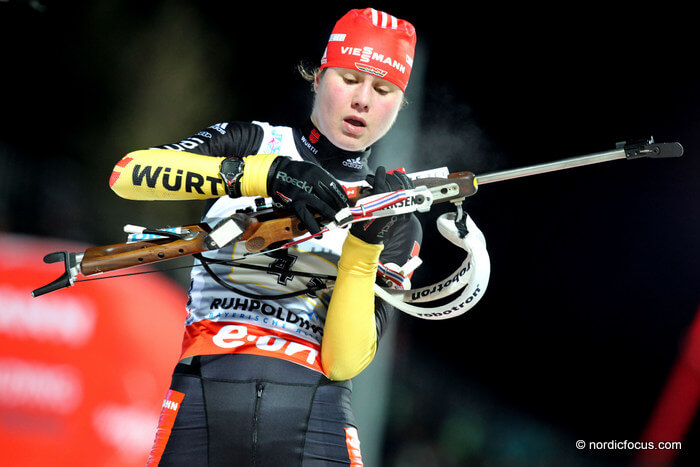 The shock at the German Championships in September in Langdorf.
Early departure with suspected herniated disc. On her homepage she headlined, "forced break with an uncertain outcome." Now after the surgery she is tuned very confident. "I was able to train again after three weeks on the ergometer and go swimming."
"For me, MY Biathlon- World is collapsed," was her first words after the findings.
A few weeks later she has her world rebuilt piece by piece and made her way back into the competition scene. "Meanwhile, I 'm getting back on the roller ski and even without snow, I train the movements of the skating technique again," Tina told us about her training.
"This is for myself a big Surprise" said Tina looks to her chances of success in this biathlon winter. Laid back, it seems, she takes out the situation. "Quick trainings sessions I cannot currently realize", yet she hold on to her goal to return perhaps in the IBU Cup the end of January.
During her convalescence, she was not able to train. She was only treated by the physiotherapists with conservative methods, but during that time she was not inactive. The suitability of selection procedures for promotion education in the upscale correctional police Service was on her schedule. In the spring of 2016 she will go on in her career at the federal police and she will then make up the written tests.
Dream Job federal police officer after the dream job biathlete that is the idea of Tina. But she want to remain faithful and connected to the sport after the end of her biathlon career and she will pass her experience to young athletes.
Career at the Federal Police after the sport career, which seems already certain for Tina. One might now think Tina Bachmann will reach her career end. Completely inappropriate.
Her mid-term goal is again the Olympics, she will be involved as an active athlete and she will stand there at the start line. "The prerequisite is that the services agree and I can also perform it physically and psychologically", rational but certainly confident she pushes her project.
Tina is on the road to recovery, she does not lose sight of her goal. But she has also already a look at the career after sport, quite objectively and judiciously, as just Tina Bachmann.
Discipline, stubbornness and ambition are probably not the worst companion in competitive sports and precisely those rank also among the properties of Tina. "I am a fighter and will not give up as long as I 'm not at my goal yet." 2018 Olympics or her profession, Tina will continue to work hard on herself.