Review something different. That was also Hochfilzen, 2005, there took Andrea Henkel her first World Championship title. "The first World Championship title in 2005 in Hochfilzen was also very special, in a competition in which I was able to start only as a replacement wife," of which Andrea raves furthermore.
Biathlon will take place in Hochfilzen 2017 again with the World Championships and it is hopefully similarly successful for the German athletes. Even Andrea Henkel was this year live in Hochfilzen, but this time without this competition stress.
Between all the great races, Biathlon-Online has dared a look back with Andrea -Henkel- Burke.
Watching is just fun. "I do not miss to run competitions. I had a lot in my life and I cope quite well without competing," Andrea tells us.

The life after sport Andrea Henkel has tackled with much diligence. "I want to be a good personal trainer and that is why it is not enough for me "just" to have the basic education." After she had indeed qualifies as a personal trainer, she engages her additionally. As so often in her sports career she will also compete in the forefront in Occupation.
Andrea is married to the American biathlete Tim Burke and now is called actually Andrea Burke. Nevertheless, two things will never change, the successful athlete Andrea Henkel, incidentally, that is their registered artist name and that she cheers as a choice American with German citizenship with the American and the German team.
Pro athlete remains athlete, although not such excessive as to her active years. Previously she has worked meticulously with Gerald Hönig on her performance, now the sport is for fun for her. "Sometimes I can do it every day in the week, sometimes this did not work a few days in a row," so Andrea assesses her sporting life now.
For her was and is biathlon in all respects varied and diverse in the challenges. "One has not to specialize in biathlon in a particular form of competition, but one can quite reach in all disciplines the forefront," she says with a grin. Rightly she adds that her special skill was. "I am also a little proud of the fact that I am still the only woman, who has in all four individual races a World Championships title."
Happy and motivated, so Andrea is against us. A fighter she was mainly in sports, so she reached many and also for her special successes. One of the successes she will probably be able to look at it with a smile. "I am proud that I have not given up in the race after five errors in the first shooting, in which I fight for the overall World Cup rankings 2007 and in the end actually I won the great globe."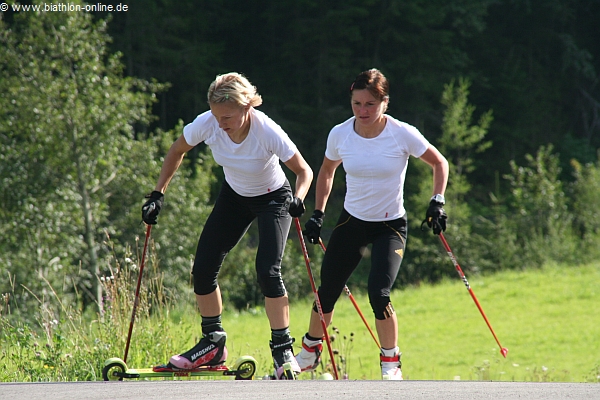 Even in her future career as a personal coach, she will live on the sport and pass it especially to all those interested. Now for Andrea Henkel it is time for sports after the sport career.