Sure there are a many German female biathletes, which could rank among the hopefuls in the coming years. A look at the World Cup starting list is enough to find an example for aspiring athletes from Germany.
Laura Dahlmeier, Franziska Preuß, Luise Kummer – all with World Cup experience and with success.
Let us begin with Laura Dahlmeier, a 22 years old young lady. In a World Cup race in February 2013 she made her debut. Now the Garmisch-born athlete is a fixed part from the World Cup team. 5 World Cup victories in relay competitions, two World Cup wins in individual races and a World Championship silver medal- that reaffirms her integral part of the A-national team.
Laura is a young talent with potential and an impressive consistency.
Franziska Preuß has "two new companion". The trophy for the world number one in the category mass start and the " Goldene Henne".
In 2013 the now 21- year-old Franziska won still at the Junior World Championships. Presently, she has already gained 5 World Cup victories with the German women's relay. With a constant season in the last winter she fetched the overall ranking at the category mass start. The silver medal at the World Championships completed her great performance and the successful competition period.
With the "Golden Henne", the Germany's most prestigious Audience Award, Franziska was chosen as the "climber of the year".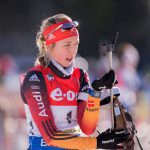 She is also a biathlete from the group young, quickly and sympathetically.
Luise Kummer won in her first World Cup biathlon winter two races in the team relay. That can be described as an optimal entry. The sport soldier from her club SV Eintracht Frankenhain showed even in September this year her potential at the German Championships on roller skis. There Luise reached the gold medal in the mass start and so before the winter season she makes clear, where the path may go. We are excited about what the 22-year-old female can show us in the coming races.
"The young savage" is a blog article which will live on. The three mentioned are only a first glimpse of a well successful phase of "young biathlon in Germany". We already referred several times, there are a number of talents. In the near future we will introduce you to these athletes who could inspire us in the coming years.
Girls, we are pleased to a surprise or two.