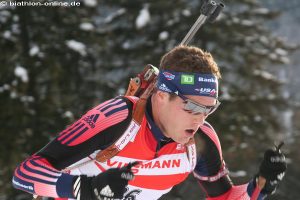 It is no longer only to wear the sponsor`s cap. The partnerships between companies and sportsmen are increasingly gaining importance. A few years ago it was clear – many medals are synonymous with an increased interest of sponsors.
In an interview Johannes Thingnes Boe gives deep insights in search of supporters , you will also find an apt statement from the American Tim Burke, even before the Olympic season.
"Through a cold call or a cold email, that's really tough," Burke said. "I've probably been turned down 100 times." (as quoted CNBC)
Tim Burke presents in his statement clearly that it is not easy to come to supporters.
Despite the considerable medal haul at the World Cup the Norwegians Boe does not find sponsors easy. Without a management the search for sponsors is limited by reason of the large-scale outlay, he says soberly. The requirements are increasing in all sectors.
On the one hand, the athlete must devote more intense on his sport to achieve successes, on the other hand one has to give a "return" in partnerships with the companies .
Maybe "return" is also the wrong word, because every sponsor or supporter has a concept behind the respective sportsman. But this is precisely the point. The biathlete should no longer be seen only in TV with stickers and promotional items. There are fresh ideas to create the alliance between sport and marketing. New requirements such as the attendance at events associated with the partnerships and require from the athletes an accurate planning to unite marketing and training.
Surely thinking here some people, if you are a cross-country skiers in Norway and you are called Therese Johaug or Petter Northug – you find an other sponoring situation – these are two names who created themselves a private label. But this way is no picnic and only very few score this.
Is it the economic situation, the sports patrons limits the financial scope or is it a " new " way of going away from the impersonality of sponsorship towards the thoughtful , purposeful and something more elaborate publicity . If you think exactly of the basic idea of sponsoring, then plays the word " identification " an important role. Ultimately matters the success of a sport that fans identify with the athletes and their sponsors !
Again towards more closeness to the fans could ever be a point to solve the mystery.